How to Ship Your Vehicle Overseas
---


The "Vehicle Shipping for Overlanders" presentation slides are here: Click Here

There are two ways to ship vehicles overseas: air and ocean.

If you are traveling by motorcycle air freight is the best option. It enables the bike to arrive at the same time you do and prevents it from being sucked into the alternative universe of the ocean shipping vortex, where time stands still and sometimes moves backwards.

Prep your bike and put it in a crate as detailed here: http://www.hackneys.com/travel/index-bikeprep.htm

But if you are traveling by truck or expedition vehicle and can't afford to charter the Antonov An-225 Mriya then you are stuck with ocean freight.

Pause here for a moment of silence.

So, right, ocean freight. Well, there are worse things in life. Skin peeled off with dull razor blades comes to mind. Hot pokers in the eyes perhaps. But hey, it's all an adventure, right?



Ocean Shipping Flow

The general flow of ocean freight looks like this: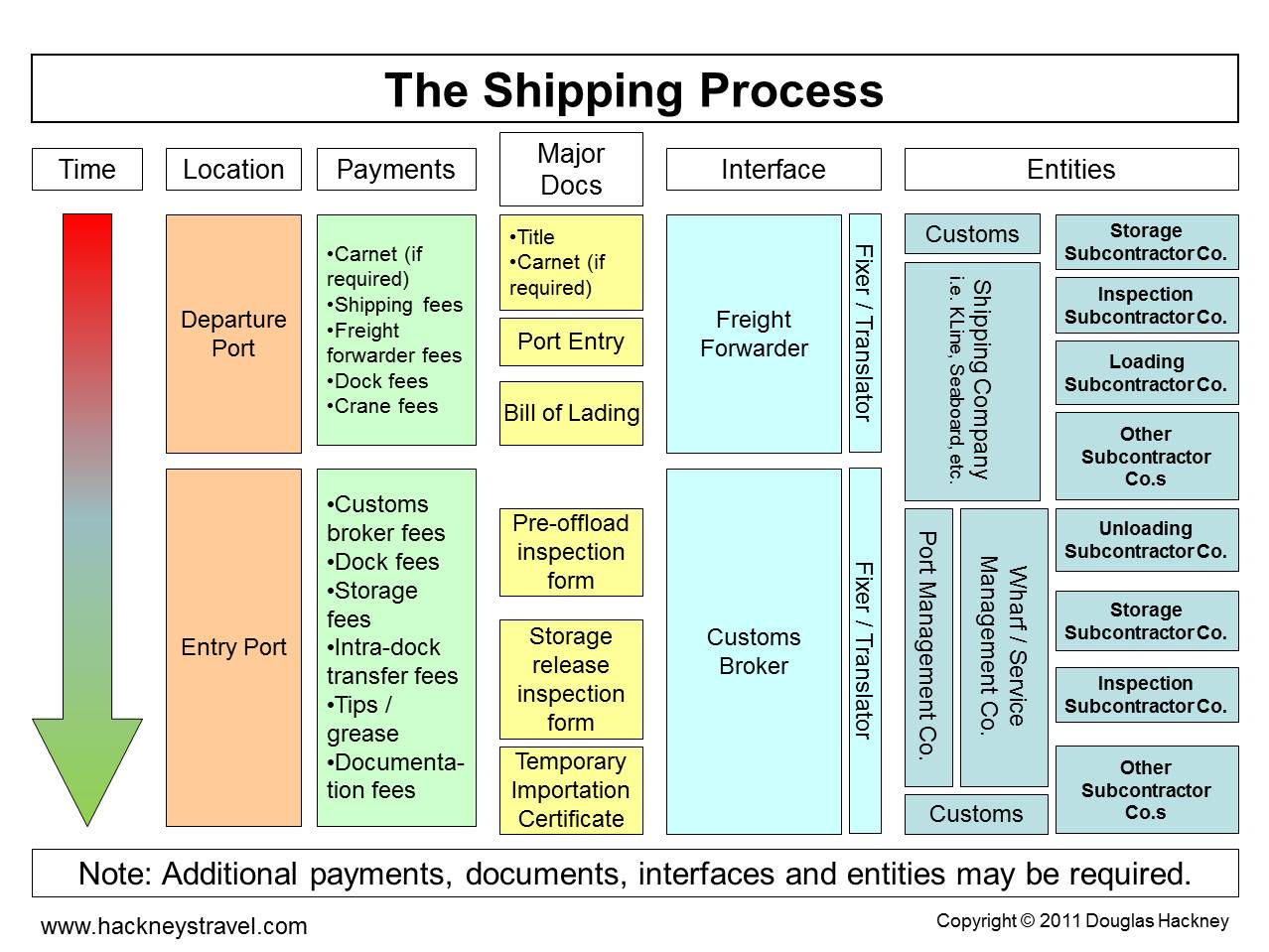 Ocean Shipping Challenges
There are some unfortunate consistencies about ocean shipping:
- You will probably be lied to repeatedly throughout the process
- The ship's schedule will change often
- The ship will almost certainly be late
- Your vehicle will take much longer to process through customs than you think it will or will be told
- There will be some extra and unanticipated costs

It is very important to remain patient, steady and even keeled through the experience.


Shipping Types
There are several types of shipment for vehicles:
1. Roll On / Roll Off (RoRo) - the vehicle is driven on and off the ship
2. Flat Rack - the vehicle is attached to a flat platform and craned on and off the ship
3. Cradle lift - the vehicle is craned on and off the ship via a cradle placed under the front axle and one rear axle.
4. Container - vehicle is secured inside a container, the container is handled normally
5. Less than Container Load (LCL) - the vehicle, or the vehicle's crate, is placed into a consilidation container with other LCL freight
6. Trailer - it is possible to ship a complete semi-trailer, which could possibly allow different vehicle packaging than a container or flat rack


If at all possible, put your vehicle into a container.

LCL will likely delay your vehicle. Avoid it. Pay for a dedicated container for your vehicle.

If your vehicle won't fit into a container and true, guaranteed RoRo service is available, then use it.

If you cannot secure the first born child of your Freight Forwarder as ransom to guarantee true RoRo service, then you are being lied to and RoRo is not actually available. Your vehicle will be cradle craned onto and off of the ship and probably be damaged or destroyed in the process. In this case, put it on a flat rack. Lock it to the flat rack to prevent the dock crew from cradleing it off the ship.

If your vehicle is wider than the flat rack consider fabricating a guard rail to protect it.
RoRo Shipping
When you ship RoRo you provide an ignition key so the crew can drive the vehicle on and off the ship.

If you have a pass-through, put up a locked barrier or close and lock the door if you have one.

If you are shipping a sport-ute type vehicle (LR, LC, etc.) install a police or dog cage barrier between the front seat and the rest of the vehicle. Keep all items in the back covered with a tarp or black plastic. Do not let anything of value be seen through any window or from the front seat.

Strip the cab of all items of value:
- Remove all electronics, inluding the in-dash radio
- Remove all accessories, including remote controls, etc.
- Remove the fire extenguisher
- Remove flashlights
- Remove all loose items
- Remove all vehicle documents (owners manuals, registrations, insurance cards, etc.)

Lock your spare tire & wheel in place with a cable lock.

Put your jack and jacking accessories in a locked or secured area.

Provide only an ignition key.
Documents
You will need the following documents to complete the shipping process:

To ship out of the U.S.:
1. Original Vehicle title (clear) or a notarized letter from your lien holder authorizing you to take it out of the country.
2. Original Carnet. The Carnet is basically a passport for a vehicle and is required for some countries. More info here: http://www.hackneys.com/travel/carnet.htm Samples of what a Carnet looks like here: http://www.hackneys.com/photos/carnetpics/index.htm

To bring your vehicle into another country you need:
1. Original Vehicle title (clear) or a notarized letter from your lien holder authorizing you to take it out of the country.
2. Original Carnet. The Carnet is basically a passport for a vehicle and is required for some countries. More info here: http://www.hackneys.com/travel/carnet.htm Samples of what a Carnet looks like here: http://www.hackneys.com/photos/carnetpics/index.htm
3. Original Bill of Lading (BoL). This is prepared by your freight forwarder and created by the shipping company.

Once your freight fowarder recieves the BoL from the shipper they will send it and the original titles and Carnet (if required) via courrier (FedEx, DHL, etc.) to your customs broker. Even in non-obscure countries it can take four to six days for this delivery to arrive and clear customs.

4. Passport(s). In countries that do not require a Carnet your vehicle will be brought in on your passport. Your customs broker will need your original passport and your entry visa for at least one day to process this transaction. Tip: Do not get in any bar fights while your customs broker has your passport.

5. Temporary Importation Certificate. This will be issued by the customs inspection office at the port of entry. They will physically inspect the VINs of your vehicle(s) before issuing this certificate. If you have motorcycles stored inside your vehicle it will speed things up if you put an easily seen sticker on the bike stating: VIN ###############.


Congratulations! You have now completed the red tape laced paper trail of overseas shipping.

The Players
You will never see or meet most of the people who make the overseas shipping process happen.

And lets be honest, that's a good thing. They'd never get anything done if people like us were running around shouting about our missing expedition vehicles last seen crossing the equator aboard the MV Minnow four months ago.

Instead of mucking up their hard working days, we use an interface layer, a team of professionals who know the inner workings and secret handshakes of the international shipping guild.

On your outbound leg you will employ a freight forwarder. The freight forwarder prepares all the necessary paperwork, books the shipper, gets your vehicle processed through U.S. customs, prepares the Bill of Lading, gets you and the vehicle onto the docks, etc.

In that strange foreign land you are going to explore you will hire a customs broker.

The customs broker will probably speak a different language than you. If you do not have business level language skills in their language you will need to hire a local interpreter in their location. In most places personal relationships are very, very important, so it is best if you can hire an interpreter familiar with the area, the customs broker, the import process, vehicles, etc.

The customs broker coordinates getting your vehicle off the ship, into storage, out of storage, into and out of customs. They facilitate getting all the paperwork submitted, stamped, completed, delivered and filed.

You will never believe how many documents there are and how many stamps are utilized. Take comfort that if you run out of money on your expedition you can always go into ink pad sales and do very well.

The ultimate goal of the customs broker is to get your vehicle past the customs inspector and through the exit gate of the port.

Depending on the country you are in, that may require medium to copious amounts of cash. Think of it as greasing the wheels of international commerce. You wouldn't want the world's economy to come to a screeching halt now would you? Do your part.
One important requirement when shipping RoRo is to strip your cab of everything of value.


Costs
Costs for shipping vary widely depending on method and destination.

For air freight shipping of a motorcycle in a crate, we used a rough rule of thumb for our BMW GS1150. Our costs to ship that bike via air freight were about the same as a full fare coach (Y class) ticket to the same destination. YMMV.

If you are shipping between North America and Europe, traffic will be high and rates very competitive regardless of the method.

If you are shipping by container you will have the lowest costs regardless of your destination.

Short of Antarctica, probably the most expensive method and place to ship is RoRo (actually crane & cradle, there is no true RoRo service) to Valparaiso, Chile, which is the absolute end of the world's supply chain.

Our total costs to ship our rig (76.73 cubic meters) from Houston to Valparaiso was about $13k USD. That included all costs on both ends of the shipment.