Design and Construction of a Global Expedition Vehicle

Douglas and Stephanie Hackney

Exploring the World and Meeting Its People

Challenge: Global Exploration by overland expedition vehicle

Expedition Duration: 2-3 years

Status: Vehicle Build Project Completed Sunday, 3 June, 2007
Project: Design and build a vehicle to provide year-round, any-climate transportation, living, sleeping, cooking, showering and toilet capability. Vehicle must be built on a reliable, globally sold and supported (parts and service) chassis. Vehicle must be entirely self-sufficient and capable of travel on any surface including off-road, rock, mud, dirt, sand, snow, primitive two-track, gravel and pavement. Vehicle must be capable of water crossings of a minimum of 3.28 ft / 1 m. Vehicle must include integrated self-recovery / extraction capability and global voice and data communications. Primary vehicle and systems must be energy efficient and independent of any external supply except LP and diesel fuel. Vehicle and systems must be maintainable and repairable in developing economies using local resources. Vehicle must be capable of a minimum of 1,000 miles / 1,609 kilometers between fuel stops. Vehicle must be capable of being secured / hardened for RORO / Flatrack shipping. Primary vehicle must carry an integrated separate scout/exploration/errand vehicle, along with spare parts, fuel and repair capability for same.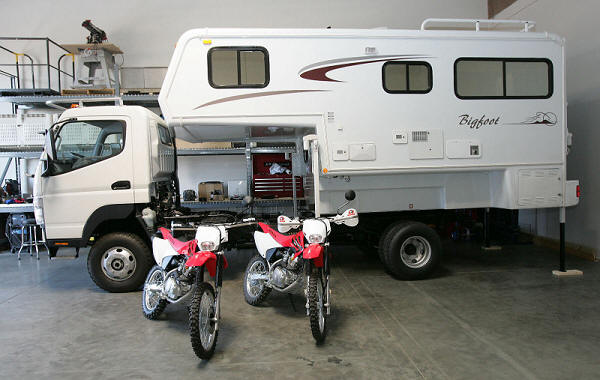 20 September, 2006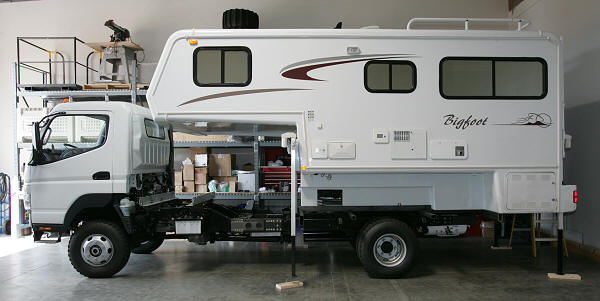 13 October, 2006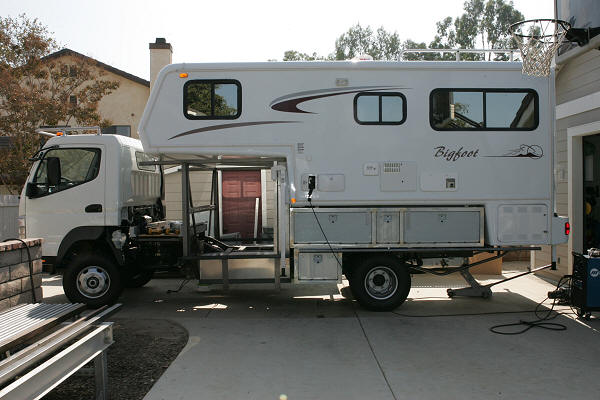 25 October, 2006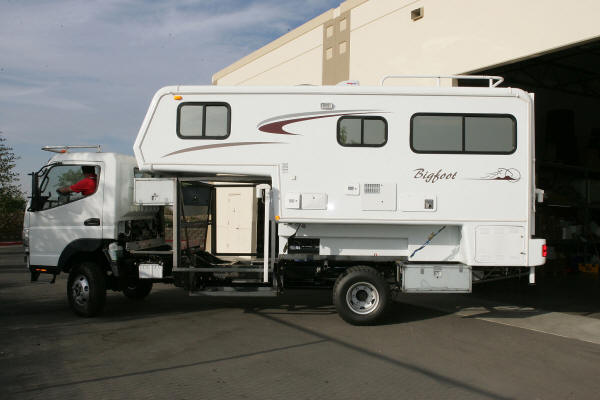 3 November, 2006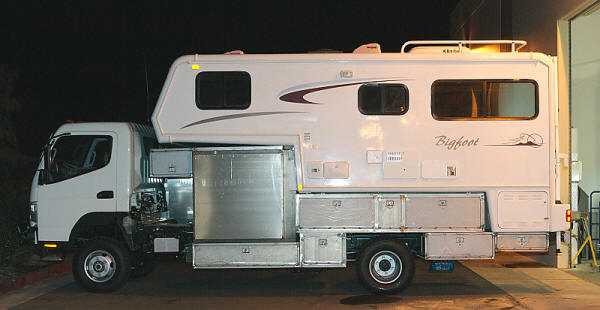 13 November, 2006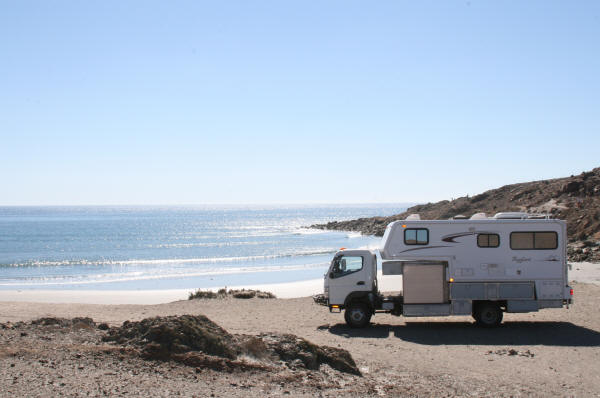 17 November, 2006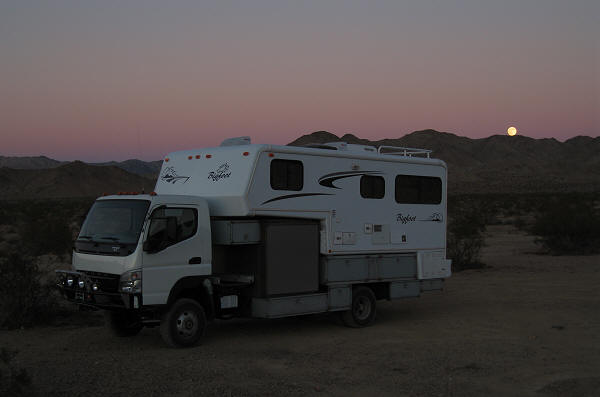 4 December, 2006
19 May, 2007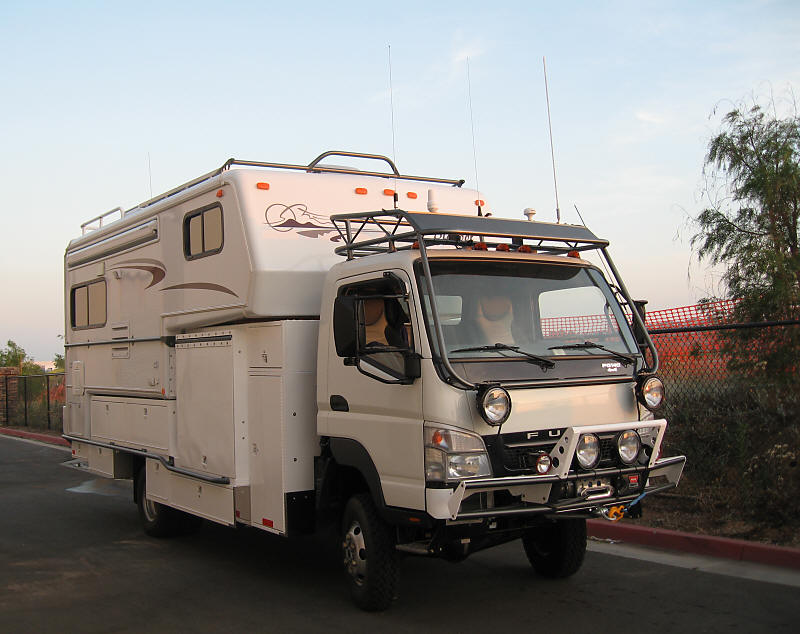 Rollout - 3 June 2007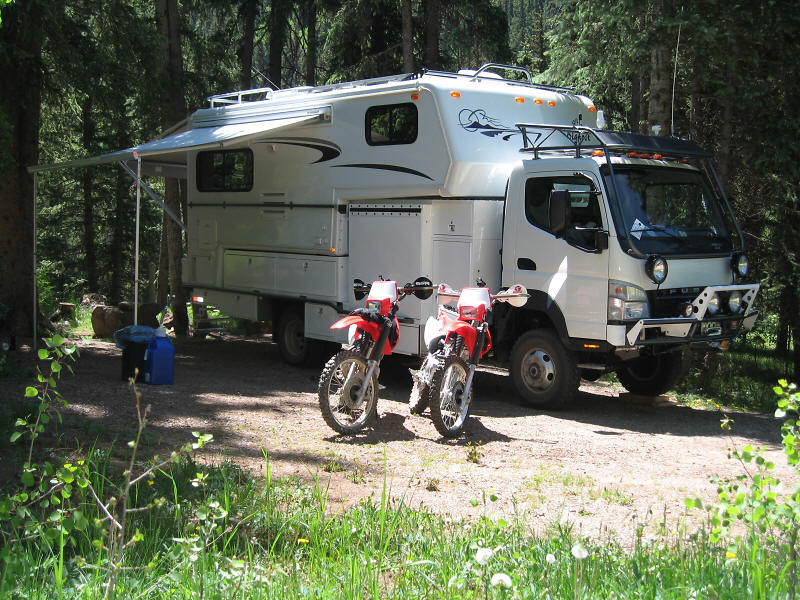 Utilization - 19 June, 2007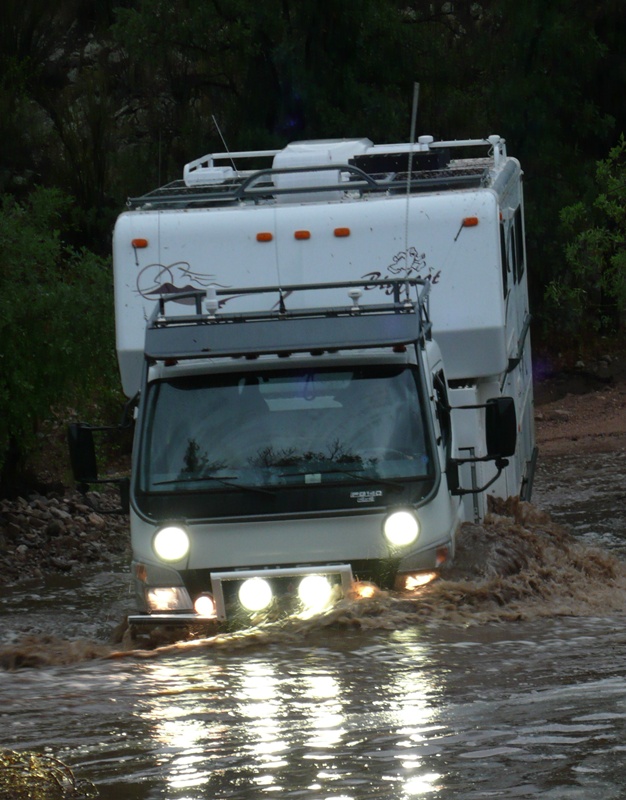 Utilization - 30 July, 2007
Project: Hackney Expedition Vehicle
Goal: Self-sufficient, Self-Extracting Global Expedition Vehicle
Mission: 2 - 3 years of unsupported exploration primarily in developing countries

Project time: One year
Build time: Nine months
Project cost: ~$275,000 USD including expedition vehicle, two motorcycles and all vehicle components, systems and electronics. The basic concept of the chassis, camper, pivot frame and storage boxes could be duplicated for ~$100,000 USD.
Project type: Private
Project Funding: Privately funded, no commercial sponsorships, endorsements, financial or product support
Vehicle type: Custom built combining factory built truck camper with modified diesel 4x4 medium duty truck chassis
Concept design: Douglas Hackney - inspired by an FG/Bigfoot design of Carl Hunter
Bumpers, frame extension, pivot frame, storage box, etc. design, fabrication and implementation: Mark Johnson
Electrical, plumbing, electronics, propane, etc. systems design and implementation: Douglas Hackney
Custom storage boxes - concept design: Douglas Hackney; engineering design and assembly: Mark Johnson; fabrication: Fleet Metal Box
Powder Coating: Jerico Metal Fabrication and Powdercoat
Raw Materials: KH Metals, Industrial Metal Supply
Hardware: McFadden-Dale Industrial Hardware
Spring & shock system design & manufacture: Deaver Spring
Rear sway bar design and implementation: Mark Johnson
Development design and engineering consultation, field beta test: Scott Brady, Expeditions West
Problem solver, creative consultant, fabrication and assembly, fellow Fusologist: Jon Lee
Always the right support at the right time: Floyd Dillman
Camper: 2006 Bigfoot 20C10.11FR
Camper construction: chopped glass mat fiberglass, pressurized injected foam and wood ply sandwich (similar to sailboat hull construction)



Chassis: 2007 Mitsubishi Fuso FG 140 4x4
# of countries chassis sold: >150 worldwide
Engine type: DOHC 4-stroke cycle, water-cooled, turbocharged, intercooled diesel
Power: 147 HP @2700 RPM / 108.12 KW
Torque: 347 ft/lb (lbf/ft) @1600 RPM / 47.97 kgf/m
Displacement: 299 c.i. / 4.899 liters
Bore/Stroke: 4.49x4.72" / 114x120mm
Drivetrain: four wheel drive, manually selected, dual range
Front axle: open
Rear axle: limited slip
Transmission: 5 speed manual
Overall gear ratio (1st Gear - Low 4 Wheel Drive): 64.2:1
Top speed: ~75 m.p.h. / 120.70 k.p.h.
Cruising speed: 60 m.p.h. / 96.56 k.p.h.
Tires: Mud & Snow Yokohama Y-7428 LT742 235/85R16; 3 polyester plies sidewall, 2 steel plies tread
Spare tires & wheels: two
Overall length: 27.17' / 7.98 meters (tip of front bumper to rear bumper)
Overall height: 12.04' / 3.67 meters
Overall width: 8.58' / 2.62 meters (rub rail to rub rail)
Footprint: 181.64 square feet / 20.91 square meters
Cubic volume: 2,186.93 cubic feet / 76.73 cubic meters
Front axle track: 65.6" / 166.62cm
Centerline to centerline rear duals: 10.75" / 273.05mm
Outer edge of tire tread to outer edge of tire tread - front: 71.75" / 1822.45 mm (stock tires)
Outer edge of tire tread to outer edge of tire tread - rear: 79.00" / 2006.60mm (stock tires)
Wheelbase: 154" 12' 10" / 3.91 meters
Turning radius: 28.2' / 8.56 meters (outer tread edge of outer front tire)
Mid Wheelbase ground clearance: 15" / .381 meters (stock tires)
Minimum ground clearance: 12.5" (xfer case skid plate) / .318 meters (stock tires)
Front differential ground clearance - max load: 8.5" / 215.9mm (stock tires)
Rear differential ground clearance - max load: 7.625" / 193.68mm (stock tires)
Horizontal centerline front differential, max load: 14.375" / 365.13mm (stock tires)
Horizontal centerline rear differential, max load: 14.125" / 358.78mm (stock tires)
Breakover: 79 degrees (from vertical at mid wheelbase), 11 degrees from wheels (stock tires)
Approach angle: 29.4 degrees (to front cab step) (stock tires)
Departure angle: 17.1 degrees (to departure caster wheels) (stock tires)
Top of rear wheel to box: 7.25" / .184 meters (stock tires)
Bottom of frame rail to ground @ rear axle: 26.5" / .673 meters (stock tires)
Bottom of frame rail to ground @ front axle: 29.5" / .749 meters (stock tires)
Chassis (everything except the camper) % of total weight: 63%
Camper % of total weight: 37%
Front axle % of total: 36%
Rear axle % of total: 64%
Left side % of total: 51%
Right side % of total: 49%
Left front % of total: 19%
Right front % of total: 17%
Left rear % of total: 33%
Right rear % of total: 30%
Center of gravity behind front axle: 98.14" / 249.28cm
Center of gravity from passenger outer tread: 36.19" / 91.92cm
Center of gravity height: 58.92" /
149.657cm (estimated based on tilt test)
Maximum left roll angle: 31.12 (estimated based on tilt test)
Maximum right roll angle: 31.56 (estimated based on tilt test)
Maximum back roll angle: 43.48 (estimated based on tilt test)
Maximum front roll angle: 59.02 (estimated based on tilt test)
Shocks: Bilstein
Springs: Deaver
Rear sway bar: 1.25" / 31.75mm x 36" / 91.44cm
Camper & storage box frame: three point pivot
Pivot frame suspension: 50/50 Fox shocks
Front winch: 16,500 lbs. / 7,484 kilos
Rear winch: 16,500 lbs. / 7,484 kilos
Air compressor: 4 cfm / 113.27 liters per minute
Air tank: 4 gallon / 15.14 liters
Maximum system working pressure: 150 psi / 1034 kpa / 10.34 bar
Air seats: dual, 3" stroke, 5 air bladders, heated
Air horns: triple, 152 decibels
Drinking water capacity:

Raw, filtered & unsterilized: ~45 gallons / ~170 liters
Fresh, filtered & sterilized: 33 gallons / 125 liters
Total: ~78 gallons / ~284 liters

Raw water input: any fresh water source
Drinking water filtration: <1 micron
Drinking water purification: activated charcoal, Ultraviolet light sterilization
Input pump rate: 7 gallons per minute / 26.5 liters per minute
Gray water: 32 gallons / 122 liters
Black water: 32 gallons / 122 liters
Macerator pump output hose: 75 feet / 22.86 meters
Fuel capacity: ~100 gallons / 378.54 liters
Range: >1,000 miles / 1,609 kilometers
Fuel tanks: dual saddle
Fuel filters: dual one micron with online hot swap backup
LP capacity:

Main fixed tank: 20.5 gallons / 77.6 liters
Auxiliary portable tank: 5 gallons / 18.93 liters
Total: 25.5 gallons / 94.64 liters
LP Fill Valve Types

Dish (French colonial areas, China, SE Asia)
Bayonet (UK colonial areas)
ACME (standard US, Americas)
POL (Americas)



House bank batteries: four, total of 840 amp hours
House bank dedicated alternator: 135 amps
Solar panel output: 19 amps
External AC input: 120/240 VAC / 60HZ, 30 amps single phase
Guest power output: 120/240 VAC / 60 HZ, 20 amps single phase
Inverter: 3000 watts, 120VAC single phase output, 120VAC single or dual leg input
Diesel genset: 30 amps 120V single phase output
Genset fuel rate: ~.2 gallons / .76 liters per hour
Energy Type Required by System

Fuso FG Chassis - Diesel
Genset - Diesel
Honda CRF150F Motorcycles - Gasoline / Petrol
Grill - Propane / LP
Range / Cooktop - Propane / LP
Furnace / Heater - Propane / LP or 120VAC
Water heater - Propane / LP or 120VAC
Refrigerator - Propane / LP or 120VAC or 12VDC
Microwave / Convection oven - 120VAC
Water UV sterilization - 120VAC
Television & DVD player - 120VAC
RAID data storage - 120VAC
LAN & WLAN - 120VAC
Document printer - 120VAC
Kitchen appliances - 120VAC
Photo printer - 12VDC
Device & discrete battery chargers - 12VDC
BGAN - 12VDC
Skymate - 12VDC
Interior, exterior, storage box & garage lighting - 12VDC
Water pumps - 12VDC
Cab & camper stereo - 12VDC



Energy Type Sources

12VDC - Fuso Engine dedicated house bank alternator, solar panels, Inverter battery charger, 240AC battery charger, house bank batteries, Fuso engine alternator, Fuso engine start bank batteries
120VAC - external shore power (120VAC or 240VAC), 3000 watt inverter, 30 amp single phase diesel genset
Diesel - ~100 gallons / 378.54 fuel tanks (dual saddle)
Gasoline / Petrol - two 5 gallon / 18.93 liter portable fuel containers
Propane / LP - fixed chassis mounted 20.5 gallons / 77.6 liters tank, portable auxiliary 5 gallons / 18.93 liters tank
Internet access: global
Bandwidth: >200kbs
Voice communications access: dual global satellite, cab and camper external antennas for primary, camper external antenna for backup
Local voice communications: GSM 3G
Low data rate access: global
Emergency Beacons: EPIRB 406 MHZ global
Radios: VHF (bike to bike, bike to truck), CB (US band)
GPS: one fixed, three portable, cab and camper external antennas
LAN: Gigabit Ethernet
WLAN: 802.11g
Data storage: 2TB configured as 1.5TB RAID5
Document handling: color scanner/copier/ink jet printer 8.5x11" / 21.59x27.94cm
Photo printing: 4x6" / 10.16x15.24cm dye sublimation
Cab video: DVD playback, rear color camera w/microphone
Cab stereo: 300 watts, four 4.5" / 114.3mm drivers, one 10" / 254mm subwoofer
Camper stereo: 70 watts, four 5.25" / 133.35mm drivers
Camper TV: 25" / 63.5cm LCD HD (US standard ATSC)
Camper TV sound: 5 channel Dolby/DTS wireless headphones
Camper TV playback: upconverting DVD
iPod integration: cab and camper
Berth: fixed ~60x80" / 152.4cm/203.2cm
Head: dry, fixed shower
Range/cooktop: three burner
Oven: convection microwave
Furnace/heater: 30,000 BTU
Water heater: 6 gallons / 23 liters
Refrigerator (3 way: LP, 12VDC, 120VAC): 6 cf / 169 liters
Air conditioner: 11,000 BTU
Galley sink: dual
Integrated exterior LP Grill: 12,000 BTU stainless steel
Primary chassis materials: steel, stainless steel, aluminum
Primary camper materials: chopped mat fiberglass & wood ply sandwich cored with injected foam, wood, single layer fiberglass
Camper glass: dual pane
Camper leveling jacks: electric / manual
Fire extinguishers: Four ABC type (cab - 1; storage boxes - 1, camper - 2)
Ditch bags: two
Vehicle recovery kits: one
Winch line extensions: two
Winch anchor: 14,000 lbs / 6,350 kg capacity
Hand tools: ax, cross bow saw, pick, short and long shovel, pry bar
Pneumatic impact wrench: 1/2" / 12.7mm 500 ft/lb / 69.13 kgf/m
Locking external storage capacity: 268.01cubic feet / 7.59 cubic meters / 7,589 liters
Camper internal storage: 92.98 cubic feet / 2.63 cubic meters / 2,633 liters
Total storage: 360.99 cubic feet / 10.22 cubic meters / 10,222 liters
Auxiliary vehicle storage capacity: two motorcycles up to 94" / 238.76 cm long and 48" / 121.92cm high (taller bikes can be accommodated if you compress the forks)
If you have questions or comments please contact Douglas Hackney