SS Minnow MC Prior to Departure - Parry Sound Sport Bike Rally, Parry Sound Ontario

The Vicarious Rider
A special report for FOH (Friends of Hackney)

The Swag
As your gift for your free one issue subscription you'll find enclosed a remarkable new device, The Motorcyclist's Kickstand Support and Universal Survival Kit. This wonderful device allows the user to not only avoid the embarrassment of driving off and leaving their favorite squashed beer can/kickstand support behind but also to survive a variety of calamities and roadside challenges.

For instance, the intrepid rider can use the support itself as a reflector to signal search aircraft after they've become terminally lost looking for that special breakfast spot, as a morning mirror for shaving or applying a little make-up before facing humanity, as an Odd Job class Frisbee, or if things get really tight, as a pocket size bullet proof vest (make sure they're a really good shot). The cable can be used not only for its designed purpose - a helmet lock extender (good for two full face helmets and a leather jacket), but also as a short tow rope, a clothesline, a hobble for a wandering spouse, or a durable bondage toy. The caribiner can be used not only for clipping the banner to handy mirrors, clutch cables, or bars, but also as a nifty key chain, mug hanger, or, for those left dry by the challenge of piercing for normal scale hoops and jewelry, a really large body ornament. The banner of course not only jars our synapses to prevent kickstandus embarrassmentus maximus, but also can flag locks of all types, hats, sunglasses, children, or the ever popular, undergarments of significant others.

Regardless of how you, valiant rider, choose to utilize it; this kit will serve as your badge of honor, virtue, exceptional character, right thinking, and proof positive that you've tipped a few with Doug Hackney.

PS - No, I didn't get the idea out of Motorcyclist. I thought of it in August at the EAA Fly In in Osh Kosh. I've even got the prototypes to prove it.

The Skinny
Quite a year for riding adventures on this end, I'm sure the same was true for you. Now's your chance to see a whole year's worth of my vacation slides, without listening to me drone on. Pop a cold one, put your feet up, and enjoy!

See you at the Chicago bike show Suzuki display, 1pm Saturday 1/22. Be there, Aloha.

Pine Mountain
The year began with a trip to CA in the spring. I had a business trip to San Francisco, where I visited old friends, then I headed south to Ventura to visit my friend Avery Innis and his family, and my brother Jeff, and his wife Michele.

Jeff @speed

Now here's the mark of a true friend. Not only did Avery loan me his Cavalcade, he loaned me his bike, and then left town. I had never been on a dresser before, so I was apprehensive. But from the time I tiptoed it out of his garage to the last time I brought it home it never once felt heavy.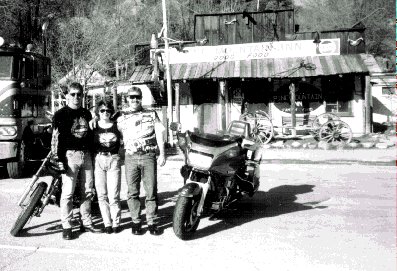 Pine Mountain Inn - They don't take American Express

My Brother had been bragging heavily about hiway 33 up to Pine Mountain, so we set off to the summit. Michele tried riding on the back, as she had never been on a dresser either. She pronounced it more comfortable than the softail, but it didn't make enough noise. Gotta love her.



As you might expect from a lifelong midwesterner I was suitably awed by the mountain scenery and wonderful twisties up to the terminally rustic Pine Mountain Inn itself. If you visit, enjoy the beer, but don't ask for a glass. We all had one beer and headed back down the mountain. About halfway down we met a Trooper headed up, who promptly whipped around and pulled Jeff over. Seems he had avoided sending a chipmunk to its maker by weaving over into the other lane, which happened to just about be filled by Mr. Trooper.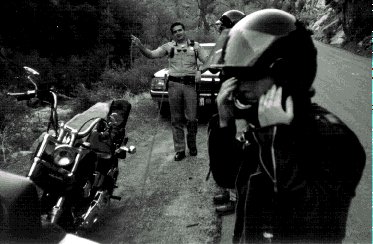 CHP or Chipmunk: You be the judge

After a short discussion of the alternative ways to avoid small furry mammals, and a quick blow into the portable breathalyzer, we were off back down the hill. After the warm weather, great times, great rides, and great friends it was very challenging to climb on the plane and come home.



Hiawatha BMW Rally
My new friends, Bob & Bunny, introduced me to the social side of the sport by letting me tag along to the BMW Hiawatha Rally in SE Minnesota. I took the opportunity of our travel across SW Wisconsin to introduce them to the world class assortment of twisty two lane asphalt laid across this unglatiated territory like linguini over white clam.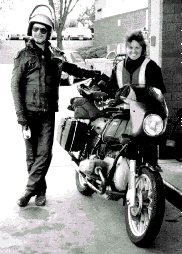 Bob & Bunny - Beemerphiles


This trip included a brief stop to exchange pleasantries with a WI trooper who found God meeting a very wide milk truck in his very wide Crown Vic on a 1.5 lane back road while trying to catch up with me. Since I was leading a K75 and an R65 I didn't find many occasions that required me to look in my mirrors, with the exception of waiting at the next corner. Consequently I had no idea there was anyone back there. The trooper was very understanding, and even let me off with a verbal warning, as well as a stern look and lecture to Bunny about rolling stop signs, which had started his initial pursuit. He did, however, refuse to sell us a copy of the video tape from his dash mounted camcorder. Wouldn't even let us watch a replay. I'm convinced it's due to his life flashing before him when he came around a 90 and saw nothing but GMC chrome grill wall to wall. I'm sure the sound track would have made for some interesting listening.

While at the Hiawatha we drank Sake around the campfire using the spoils of our afternoon scavenger hunt for suitable heating and drinking utensils. Bunny won hands down with a real Sake set she found at a rummage sale. Also met some great folks from Minnesota, including Joe and Beth Miller and their son Sam, and Andy Goldfine. Andy was adamant that I should attend the mythical Parry Sound Sport Bike Rally. He swore it was a real event, and only there would I find people who understood the true essence of my '87 Jixer/Sport Tourer ala Bart. Aha, a mission!

Quad State
Another friend, Chuck Tidrich, of the Heartland Riders, had invited me to attend their annual Quad State Rally near Dubuque. Drawing riders from WI, IL, IA, & MN to the pastoral setting of the Rustic Barn Campground just NE of Dubuque, IA, home to friendly managers, a real rustic barn converted to a great room, office & general hang out area for campers, and the cleanest rest rooms this side of your nearest satellite assembly facility. Great view of a typical WI family dairy farm for no extra charge too.

The trip over was filled with wonderful wanderings through the best roads this side of the Rockies. I was looking forward to this opportunity to try out my new tent and other camping goodies I had bought for the purpose of making the pilgrimage to the mythical Mecca of sportbikedom, Parry Sound, a few weeks later. I pulled in and was met by greetings from those already in attendance and the comforting reassurance of the manager that "there's no rain 'till Tuesday" a refrain that would be repeated by everyone who had seen or heard a weather forecast in the last 48 hours.

While taking a ride to breakfast at the oldest restaurant in Iowa (N of Dubuque, and still in the same family, quite a place) we all noticed that my jixer could double as a mosquito fogger at low revs. It was loading up badly and spitting lots of black smoke. I limped it home and spent the afternoon conducting an impromptu crash course in slingshot carb theory and cleaning, parked under the handy deck on the east side of the Rustic Barn. I was aided in this effort by the estimable Mr. Tidrich, master carb cleaner. Just as we finished with the carbs we noticed a few sprinkles splattering the concrete outside the overhang of the deck. Strange we thought, "no rain 'till Tuesday".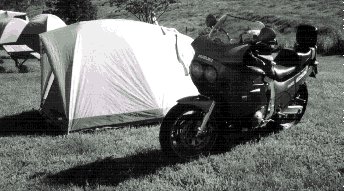 Quad State Still Life - (pre-micro burst)
Quad State Rally NE of Dubuque IA
Peeking around the side of the barn to view the Western sky, we were greeted by a bank of solid black clouds bearing down on us like a Peterbuilt on a dumb struck doe. What followed was three waves of Class 10 midwestern thunderstorms, the first bringing intense, high winds, and all with buckets of rain. Chuck was trapped in the restrooms for the first 20 minutes or so during the first wave, and braved a dash to the barn when it let up a little.

After the onslaught we were greeted by a campground of downed and drowned tents and campers. My brand new Eureka Timberlight, with the extra strong aircraft aluminum poles - so the salesman said, had gone down in a heap with a broken main spar. Other tents were rolled up against the barbed wire fence. One pull behind camper was ripped off it's trailer and destroyed, it's identical neighbor being saved only by the efforts of the eight or so people trapped inside desperately hanging on to their only shelter from the rain and wind.

In the end all the tents were repaired, the camper was abandoned for a dry motel room, and the day's events were laughter filled anecdotes by that evening's campfire. I made friends with a contingent from Fermi National Labs, and we proceeded to watch satellites spin through the sky and generally solve the world's problems well into the night.

AMA Nationals
Summer always calls for a trek to the prettiest track in the country, Road America. If they had the playground facilities and permanent garages of Road Atlanta it'd be the best, period. But for now, best scenery and best track food will have to do. I had a commitment for Saturday (which also prevented me from doing the Harley 90th parade & party), so I resolved to run up Friday for practice. I'd made the annual Don & Roy's Sport bike night on Thursday and had managed to hook up with Ray Yoder, a racer I had known when I lived in IL, so I was ready to see the stars, look up old friends, and generally enjoy the racing scene on a relatively quiet day.

I found Chuck, who was helping Nick Inatch's 250 effort while they were in town, and got to talk with Nick again, who I hadn't seen in a couple of years. I finally found Scott Zampach, after a couple of hours of searching. A super person, and one of the few racers I know with his priorities in the right place. It's great to see him succeeding, and getting some shots at quality rides.

On the ride home I was working down the usual long line of traffic on the two lane north of Plymouth when I came up on a new RADD front end Yamaha. I hadn't seen one yet, so I lingered for a few moments looking it over as we moved down the road. When I pulled out and kept slicing up the cars, I noticed that he was hanging with me, a few jumps back, keeping the wick on. I had my Solo on and my earphone in, so I hammered on and we made quick work of the ride into Milwaukee. Once we got into the city we hooked up for a beer, and so I met Tony Tice. Turns out he does for Yamaha what my friend Avery does for Suzuki, he and his wife grew up within a dozen miles of me in central Iowa, and on top of that, he's a hell of a guy (what'ya expect for an Iowa boy, anyway?).

Sunday's racing was a great show, and I was able to enjoy it with my friend Tom Jindrick, who is the only sport bike rider in SW Wisconsin now that I've moved out. Tom looked me up one day after seeing a letter to the editor I had written to

Turn 6 - Event Unknown
AMA Nationals Elkhart Lake, WI
American Roadracing. Hmmm, he thought. Somebody in Reedsburg, a mere 15 miles away, writing to AR? Must be another sport bike fan. So I'm putting down our road with my son on the tractor going out to build some fence when I see this 750 Ninja cruising slowly down our road. Makes a U turn at the stop and comes back. Wants to know if I know a "Doug Hackney guy around here". So begins another great motorcycling friendship.

Tom and I were unable to find Bart Horn, the father of the jixer. We had made arrangements to meet in turn 5, but our efforts to find his Hurricane with hard bags were for naught. We were forced to merely spend the day enjoying great racing, beautiful weather, real food, and cold beer. Hey, it's a dirty, rotten, nasty job, but somebody has to do it.

Parry Sound Sport Bike Rally
After receiving some registration materials from Cycle Canada, the sponsors of the rally, I figured it really was an event and not some elaborate snipe hunt Andy was sending me on. I figured he'd go quite a ways, but opening up a phone line with a phony office in Toronto was probably pushing it.

I plotted the great counterclockwise route, passing through Grand Rapids MI, so I could see the Koose, aka Mark Kuyrkendall, my lifelong best friend who had escaped Iowa to a life of QC God and Victorian Museum Grand PooBah. Upon arrival I immediately set out to yet again clean the jixer carbs, as it was once
again loading up, with a spot off idle flatter than a Nebraska wheat field. Avery had faxed me the pertinent pages from the shop manual for the carbs, and combined with his phone support we quickly isolated the problem to worn jet needles. Mark Dobek from Dynojet was kind enough to Fed-X a replacement set out and the next day I had a set of completely rebuilt and crystal clean carbs. Of course, then the bike wouldn't fire. A short lived panic was solved by a quick battery swap (spark or gas, don't forget the basics) with one of the pristine Z1's in the Koose Kollection.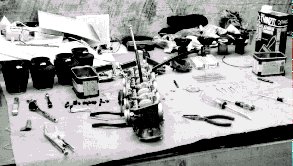 Jixer Carbs Reborn
Koose's Garage Grand Rapids, MI
I headed east trying to make up time. I was down a day after waiting for the parts to come in overnight, alas, no day in Toronto (one of my favorite cities) on this trip. Just after crossing into Ontario I stopped for gas and discovered to my horror that I had left my visa on the counter at the Honda dealer in Grand Rapids while buying parts. Long ago I had developed the habit of traveling with only one card at a time. Works great as long as you don't decorate counter tops with abandoned plastic. Well here I was in Ontario with a full tank of gas, some cash, some travelers checks, no dark glasses and I don't smoke. Well, what the hell, these days they can overnight plastic anywhere, right? Onward and upward. I pushed on up the coast of Lake Huron to Goderich for the night.

Another morning's ride found me in beautiful downtown Parry Sound, Ontario. I quickly checked into my dive motel with a killer lake view, and got registered at the rally. The next couple of days were filled with the usual mix of great people, new friends and old, fun times, and fantastic euro-spec bikes not sold in the US. The only drawback was the roads. Most of the back roads were in pitiful shape, at least the ones that were picked for the poker run. Guess I'm spoiled by SW WI. These were best done at about 5/10, with plenty of late apexes.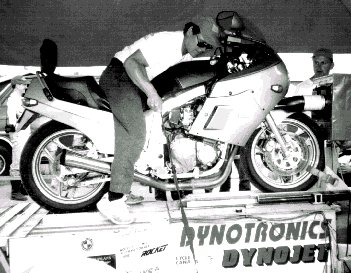 Sick Puppy on Parade
Pete the Magic Dyno Parry Sound, Ont
I was anxious to see the effects of the new jets I had installed at the Koose Kawasaki Korrall, so we put the jixer on Pete's dyno. It only pulled about 100 ponies with LOTS of black smoke. Pete just shook his head and said, "sick puppy". A later leak down test revealed badly leaking intakes in 1&2. Time for a trip to Avery's Head Works.

Saturday afternoon brought the absolute highlight of the season: the Parry Sound Sport Bike Parade. The RCMP shuts down the only highway between Sudbury and Toronto to allow 600 sport bikes to parade down into and around town to the docks, where our cruise ship awaits. What a feeling to be in the middle, with bikes for as far in front as you can see, and bikes as far back as you can see. Minuscule compared to the 90th, I admit, but I was IN this one.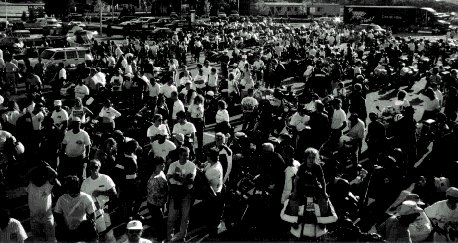 Awards Crowd - (Spagthorpe factory display blocked by Honda Transporter)
Cruise Ship Pier Parry Sound, Ont
Upon arriving at the docks the crowd gathered expectantly around the panel truck that had been drafted for stage duty. What followed was the wittiest, most creative, and funniest awards presentation that I had ever seen. Kids, its worth the ride to Parry Sound just to see the awards ceremony. From tackiest leathers to best exhaust, its all here. Presented with uncommon comedy by Mike, the event's creator.

We all slept soundly and awoke Sunday charged for the trip across Huron toward the states. I was riding with a large contingent of Andy's Army who had ventured from the environs of Duluth and other points in MN. We made our way a couple of hours down the road to a roadhouse where we could fill up and chow down. I'd already eaten breakfast, but I joined the group and got to meet several of my riding companions for the first time, including Rob, Tim, and Deb.

An hour or so later, just passing through the outskirts of Sudbury Ontario, the only thing that would pass for a city in 300 miles, Rob's K75RS spit off its right side cover. We were riding in a good stagger, with good separation, on a clear day, on a straight two lane with little traffic, so I got a good shot of it spinning lazily along the shoulder, its fine German engineered connectors glinting in the early afternoon sun.

Being, as I said earlier in this tome, from the great state of Iowa, I was struck not only by the graceful way in which this finely crafted and engineered piece of bodywork was grinding down the shoulder, but also by how I, Doug Hackney, could stop this tragedy, and end Rob's suffering, which, by the way he was motoring blithely toward the Western horizon, was unconscionably unaware of. Overwhelmed by my desire, no, my need, to do THE RIGHT THING, I promptly jinked to the right shoulder, grabbed a full handful of jixer anchor, and came to a stop just about where I could reach down and pick it up just as this shining example of Tutonic connector engineering ceased it's death spiral.

Unfortunately, just as my boot touched the pavement to bring this mission of mercy to fruition I was introduced to several of Newton's basic laws of physics. Specifically: 1. A body in motion tends to stay in motion. This was demonstrated by Tim's CB900, which was conducting an experiment in how much speed could it scrub off in exactly 27 feet of both ends being locked up before it demonstrated the second law: 2. For every action there is an equal and opposite reaction. This was demonstrated by all of the kinetic energy in the 900 traveling at god knows what speed (say 70 minus whatever a CB900 can scrub in 27', let's say 68) being transferred instantly to the stationary jixer, and, via my backrest & bags, to me.

I remember rolling across the yellow line, with the horizon spinning as quickly as the side panel had been a few seconds before, looking down the road and seeing the jixer merrily motoring along towards home, and thinking, "hey, there goes my bike, but I'm not on it, in fact, nobody's on it". Deb described the view from her perspective following us as an explosion of oil spray, body work, bags, and bodies. By the time I had gotten to my knees on the opposite shoulder Sam had reached me, followed closely by Rob. Tim was in the ditch, my bike was somewhere in parts unknown (it had rolled about 150' on its own, before lying down gently in a peat filled ditch). I could see Tim was up and moving, and everyone else seemed to be ambulatory as well.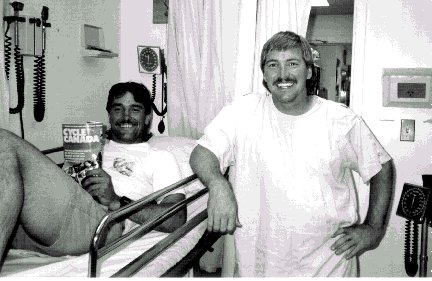 Welcome to Canadian National Health Care - (aka "What's an MR?")
Sudbury Community Hospital Sudbury, Ontario
It seemed like only minutes before the Mounties were there, followed quickly by the ambulance. The first vehicle that stopped was an older pickup. The guy didn't say a word, just got out and started throwing his load of driftwood into the ditch to make room for the bikes. We got them loaded quickly, and by then it was time for us to take our trip to the local hospital. The staff was fantastic, and did what they could with what they had to work with. (Just a note: before any of you endorse a single payer/Canadian model of health care, please talk to me.) My doc and I spent most of the time talking about health care reform and various models of provider systems. Tim had 4 dislocated toes, which they reset the old fashioned way, grab and pull. I was fine, just really bruised and some minor abrasions. Tim's Aerostitch suit had one minor tear, and my Hein Geirke leathers had one dime sized hole in my left chap leg. All in all, another demonstration of how safe apparel can make the difference when you have an unexpected visit with Mr. Newton.

After we were released from the hospital and had gotten into a room, we all gathered for a dinner of Thanksgiving. The entire group had been fantastic taking care of us, our bikes, our bags, our arrangements, everything. I could not imagine a better group of people to surround me in trying times. If you're planning a wreck, call Andy ahead of time, and tell him to bring his pals.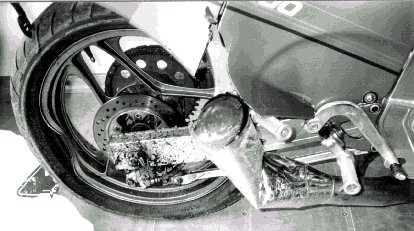 Post Sodomization Jixer
I ended up staying a couple of days making arrangements, waiting for my missing credit card to catch up with me, and soaking in the hot tub. I loaded both bikes in a rental truck and headed home. 800 miles at 57 mph, munching Tylenol all the way.

BMW National
The BMW national rally was held in Osh Kosh WI this year, just prior to the world famous EAA Fly In. Because I had fallen under the spell of so many Beemerphiles I was drawn to Osh Kosh like a moth to flame. Of course, I had to do it on 4 wheels, since the jixer was just a twisted shadow of its former self.

Upon checking in and sneaking into the camping area the back way, so as not to be seen caging it into the national, I began my search for familiar faces. It took me a while to find where Bob & Bunny's club was camped. She had simply said, "we're under the trees, the only trees in the whole place". OK, so there was only one place with any concentration of trees, but a few hundred other folks had thought that was a good place to pitch a tent too.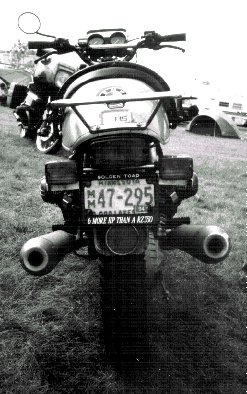 The Andymobile
BMW National Osh Kosh, WI

However, after much diligent searching I eventually did find a spot. Then began my quest to actually find the people associated with the tents amongst the sea of 5000 or so Beemerheads. In less than 10 minutes I had run into Rob, of the incredible spontaneous parts shedding K75RS fame. A few minutes later we saw Bunny go by on a golf cart, to what end we weren't sure, quickly followed by the current manifestation of Andy's Army returning from a dinner run. Not bad, in less than 20 minutes I had found every soul I knew in 5000+ people. S'not luck man, s'karma.

Lots of fun, lots of new friends. Learned about a secret society of high speed/high mileage runners centered in the American West. Even met one of the high masters of the order. I even managed to fight off the urge to buy a Beemer on the spot.



The cage seemed like a much better idea when I awoke Sunday morning to a raging downpour. I packed up by simply throwing everything in the back of the RX-7 and headed home.

USGP
Next up was my long awaited trip to the return of the US GP at Laguna Seca. I flew out to Ventura a week before and attended the California State ABATE Run with Jeff, Michele and their friend Russ, who we refer to as Tapeworm for his remarkable ability to consume anything in site, all day long, and still be able to blend in with a picket fence by standing sideways.

This was a very interesting experience, replete with slow races, various eating contests, and of course lots of HD folks. As I've always found, everyone was super people, even the club guys in full colors from the roughest cities CA has to offer were polite and friendly. There were lots of kids, and I was struck by the irony of the fact that the parents required their kids to wear bicycle helmets while riding a grassy field, but were actively fighting wearing helmets while riding at speed on pavement. I guess I miss the point, because I wear mine all the time, even in WI, which doesn't have a helmet law.

I also got the chance to go dual sport riding with Avery later in the week. At his urging I had bought a DRS 350 to ride while the jixer was broken, but had not had the chance to ride it in the dirt much in WI. We went up in the mountains, and I got my first taste of what trail riding is all about. For a kid from the midwest to come upon an entire valley set aside for Off Highway Vehicle (OHV) use is a mind altering experience. The fire was lit, and I've been spending a lot of time in the dirt ever since.

The next day we set out for Laguna, via Hiway 1 along the Pacific coast. It is consistently ranked as one of the worlds most scenic and enjoyable roads, and it deserves it. I got the opportunity to ride Avery's DR 650, and it was a near perfect machine for cutting up the twisties. Light, agile, with plenty of power, I was able to smoke my share of sport bikes. Nothing like the look on their face as you motor by on trail tires. Course this only lasts until you hit the next straight, but it sure is fun while it lasts.

We stayed at the Marriott in Monterey, where most of the teams were headquartered. Made a lot of new friends, and saw some old ones. Joe and Beth were working the race, and happened to be assigned to the corner right in front of the motor home we were using as a viewing tower. In a coup of a deal, Avery had swapped tech info on this group's Suzuki mini bike and a banner for free beer and access to the roof of the motor home for the duration. Let's have this guy negotiate our next major treaty.

I met Britt and Norma Turkington through Avery. Britt is the reigning Supersport champion, and was on hand to sign autographs at the Suzuki tent. These are two quality people, with their heads on straight. I really enjoyed getting to know them, and Britt is really funny when he gets going. We went over to turn 5 to watch some of qualifying and practice. It was very interesting to have Britt analyze the speeds and lines compared to the equipment he has ridden on the same track. I kept trying to get him to volunteer to teach some of the rookies the quick lines, but he wouldn't go for it.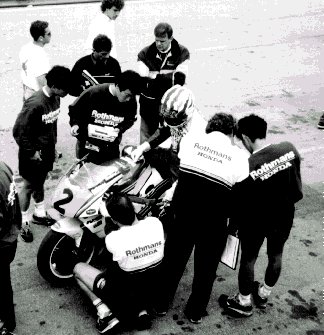 Doohan Pits - final qualifying session
USGP Laguna Seca
I was very fortunate in getting to visit the Suzuki Suite along the pit straight, where I had a direct view down into the Honda pits. I was also able to stroll the paddock area and check out the garage areas. Tremendous experience, and well worth the trip. Overall impressions were: 1. Nothing like the smell of a two stroke 2. These guys are SMALL 3. Even the 500s were really quiet, the FIM noise regulations make them very quiet compared to AMA Superbikes 4. The mood was pretty subdued, with the news of Wayne's injuries hanging over the crowd, and rumors flying as to his condition.



The scene in Monterey Friday and Saturday night is also worth the trip. The cannery row area is lined wall to wall with bikes by 9pm with a lively parade of the see and be seen. The local gendarmes broke things up pretty early on Saturday night, but it was fun while it lasted.

After the race on Sunday we went out to celebrate the championship. Avery was pretty tired, so he called it a night pretty early. Mark Neubauer, Ave's boss, and I decided to hang out at the hotel bar for a while. While answering a call of nature I happened to run into Kevin Swantz in the john. He was having a family and friends reception in one of the ballrooms to celebrate. We chatted for a few minutes. He seemed like a really nice guy, and others who know him echo those sentiments.

Another great ride back down the 1. This time I drew the GS1000. The first good right hander I threw it in and found out that the GS1000, for all its good qualities, really doesn't like bumps in the middle of the corner. Discretion being the better of valor, I spent the rest of the trip enjoying the scenery and waving people by. When I finally got to where Avery was waiting he was still grinning ear to ear about all the sport bikes he had blown off on the 650. Another great visit, and again, it was very hard to get on the plane to come back to WI.


Malcolm Smith Dual Sport Ride
Having succumbed to the Dual Sport bug, I shipped my 350 to CA to ride over the winter. The big event in this plan was the Dual Sport ride planned out of Malcolm Smith's dealership in Riverside. I came in a couple of days early to see everyone and to check on the work that Avery had been doing on the bike (have I ever left anything stock?).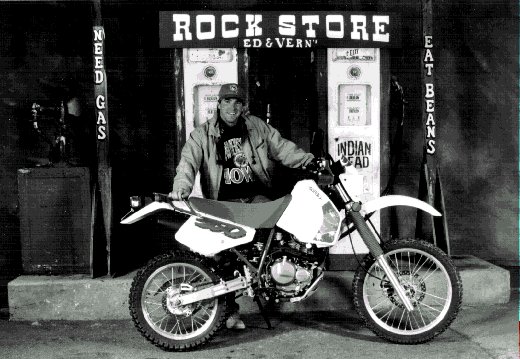 The only bike there with WI plates
The Rock Store Muholland Dr., CA
I rode in the river bottom for a couple of hours on Saturday, practicing a lot of deep sand riding. Jeff, Tapeworm & I then rode down the coast to check out the burned out areas. We worked our way up to the Rock Store, where it happened to be Photo Day, complete with backgrounds and studio strobes.



Avery and I took off Saturday night to get down to the Riverside area. I was entertained by a medium scale gang war outside my motel window which ended only with the arrival of what sounded like the 82nd Airborne. We pulled into the dealership at about 5:30am with the Western sky filled with black clouds and lightning. "How could this be?", I asked. They don't get thunderstorms in Southern CA. I hadn't brought much to wear, after all this is Southern CA, right? It was cold, and it was raining. What a way to start my first dual sport ride. Then it started to rain harder. That's when I bought my MSR GoreTex Enduro jacket.

Hanging around the parts counter I overheard a conversation from a rider calling in from up in the mountains. "Yea, yea, no kidding, wow, ok then, maybe next time". Seems there was already several inches on the ground where this guy was, and he didn't think he was going to make it. That's when I bought my MSR GoreTex Enduro pants. I was warm and dry all day.

In short the ride was fantastic. Trails like I couldn't have dreamed of. Having been out of the dirt for 20 years, it was trial by fire, but I had a ball. There were perfect fire roads, challenging uphills, wonderful single track trails, all surrounded by your average, heart stopping, CA mountain splendor. By the time we found the lunch stop we were all more than ready for it. We were greeted by Malcolm's family serving a hot lunch with the best tasting hot chocolate I've ever had in my life. I don't know how many cups I had, I lost count at five.

Since Avery and Bob were technically working this event we were usually some of the last ones out, including lunch. About 3 miles from the end of the trails, at about 8,000 feet, we got caught in a blizzard, and I don't use that term lightly. The fire road had frozen solid and the snow was coming down thick and horizontal. We were unsure whether to take the last single track trail, or deviate from the official route and stick to the fire road. Avery sealed it when, after struggling to stand up on the ice rink of a road, he said, "they'll find us here first". It took us about 90 minutes to go that last 3 miles. It was quite a bonding experience, as they say. However, once we reached the pavement, which was also covered in ice, the looks from the people in the chain shod cars was worth it all.
Avery, Malcolm, Bob, YrHmblSrvnt, Terry
Malcolm Smith Dual Sport San Bernadino National Forest
A fantastic first Dual Sport ride. The fun I had on the trails was surpassed only by spending some time with Malcolm, who I rank as a solid Demi-God of dirt riding. A super person and a smart businessman, he's shown you don't have to be a jerk to be successful. All this, and his gear keeps you warm and dry too.




The next day we had a riding day planned with Avery's son Jason and his friend Melinda whom I had met on my trip out for the GP. We went up to Gorman OHV and had a great day riding, marred only by Melinda endoing off her borrowed RM125 and breaking her finger. Jason did about 500 laps of the parking area and probably still has a grin on his face. Avery was too sore from the dozens of falls we had taken the day before on the Fire Road From Hell so it was just Melinda and I on the trails.

I had been warned that she knew how to ride, so I expected her to know her way around. I was hoping to keep pace, counting on my two whole days of dirt experience in the last 20 years to carry me through. As it turned out, keeping her dust trail in sight was a triumph. Hell of a rider, cute, funny, and as Avery says "one of the best people I've ever met".

By now it is really getting to be a major problem to get on the plane and head east. I've been back out again in December for another Dual Sport ride, and I'm taking my kids out for their introduction to CA dirt riding over the holidays. I'm really liking CA these days.

I've been very blessed this year to have so many wonderful experiences with so many great friends, new and old. What could have been the toughest year of my life turned out to be the best. Thanks, and I'm looking forward to seeing you all on two wheels in '94.